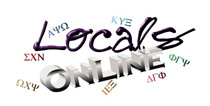 List your fraternity or sorority here!


We are gradually gathering information on the many local fraternities and sororities out there. We can't do it without your help. Are you in a local fraternity or sorority? Then please fill out this form. For those of you with forms-impaired browsers, please e-mail us (or see our address below) and tell us who you are!
Know anyone in a local fraternity or sorority? Then tell them about us! Locals that recently went national may be listed as well, and all feedback (regardless of affiliation) is welcome!
You don't have to have a Web page to be listed here. An e-mail/snail mail address or phone number will do -- as long as there is some way for other locals to contact you to share ideas and support.
If you want to have a Web page for your organization, but don't know how to do it or where to go, then let us know. We can help you out.
Help us make Locals Online the best resource for local fraternities and organizations by filling out this form!

Browse through our listing of locals!
---
---
Read the Disclaimer. Copyright Fran Vincent 1996-97.